A mob of a few hundred men from Noagaon and adjacent villages gathered this morning with locally made weapons and carried out the attack, reports our local correspondent quoting Nazmul Huq, officer-in-charge of Shalla Police Station.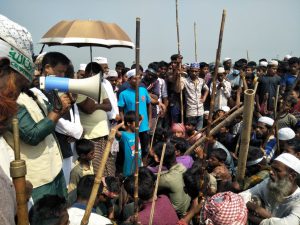 At least 35 houses, mostly tin-shed, belonging to people from the Hindu community in Naogaon were damaged and 40 houses were vandalised partially during the attack, Jahangir Hossain, deputy commissioner of Sunamganj, said while talking to our local correspondent after he visited the spot.
Police reached the spot upon information and managed to bring the situation under control, said Mizanur Rahman, superintendent of Sunamganj police.
"There has been no reports of looting or arson so far," the SP claimed.
However, no arrest has yet been made in this connection and case was yet to be filed, OC Nazmul Huq said.
The attack happened a day after a group of local Hefajat supporters held and handed over a Hindu youth for allegedly criticising Hefajat Joint Secretary General Maulana Mamunul Haque on social media.
Police detained the youth last night. His house was among those which were vandalised, the OC added.
When contacted regarding the incident, Maluana Abdul Basir, Hefajat's central Nayeb-e-Amir and former chairman of its Sunamganj unit, said that he has heard about the incident but not in detail.
"Such attacks on innocent locals are condemnable," he said, adding that it's up to the law enforcement to take action against the person who critisised Mamunul Haque.
DC Jahangir Hossain further said, "We have reassured the victims of providing safety and all kinds of assistance. We are trying to identify the attackers and the instigators."
"Police will take legal action against the attackers," added the DC.
Source: https://www.thedailystar.net/crime/news/hefajat-followers-attack-vandalise-hindu-houses-sunamganj-police-2062177