"They took away all of my savings and the gold jewellery we had for my daughter's wedding. We managed to flee minutes before they attacked," 55-year-old Jhorna Rani Das said, describing the attack on her house.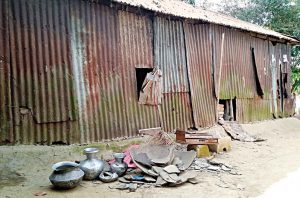 Her four daughters have gone to their uncle's home and are too afraid to return to Noagaon village in Shalla, Sunamganj, where houses of Hindu people were vandalised in a communal attack on March 17.
After losing their job in a garment factory during the lockdown, her two daughters came back home in April last year. "Now we are completely broke."
People of 89 other families in the area have also been living in fear since a mob of Hefajat-e-Islam supporters wreaked havoc in the village, saying that someone from the community criticised their leader Mamunul Haque on Facebook.
Shahidul Islam Swadhin, the main accused, and 32 others have been arrested in two cases.
Police have set up two outposts in the village to ensure safety of the community, said Najmul Huq, officer-in-charge of Shalla Police Station.
Hefajat-e-Islam held a rally in Derai, Sunamganj, on March 15, where its Amir Junayed Babunagari and Joint Secretary General Mamunul Haque spoke.
Word spread the next day that a young man named Jhumon Das Apon had criticised Mamunul in a Facebook post.
That evening, hundreds of people from Kashipur, Chondipur, Nachni and several other villages in Derai gathered at Dharain Bazar. Some of the people in the crowd were openly talking about attacking Hindu people's houses at Noagaon, witnesses told The Daily Star.
Locals, who were against a wholesale attack, detained Jhumon from Shaskhai Bazar and handed him to police.
"People gathered in Dharain Bazar after someone used the microphone in a mosque and announced, 'Gather for a rally to save Islam.' The next morning, someone from the mosque announced there will be demonstrations in Shalla," Monful Begum, a resident of Nachni, told this correspondent.
Liton Chandra Das, a resident of Noagaon, said, "When they gathered in the morning, we thought they were going to the government offices as they had announced before. We didn't think they would attack us."
Al-Muktadir Hossain, upazila nirbahi officer of Shalla, also said the crowds of people were supposed to hold a rally on March 17. "In the morning, when they gathered at Dharain, we went there to talk to them."
On the night before the attack, Shalla Upazila Chairman Chowdhury Abdullah Al Mahmud went to Kashipur village, which is not far from the hindu houses, and tried to calm the mob.
"I talked to locals and Union Parishad members. They said there would be no further agitation," he told this correspondent.
Freedom Fighter Jagat Chandra Das, 73, said, "The upazila chairman told us nothing will happen. But we got attacked."
The upazila nirbahi officer said, "The attack on the village by a part of the mob was completely sudden, unplanned and uncontrollable."
The mob that gathered in Dharain, first attacked a Kali temple in the village around 7:00am, said Adhir Chakraborty, who looks after the temple. "They attacked the temple hours before they attacked the houses. This proves that they gathered to attack the Hindu people."
There are houses of six freedom fighters in Noagaon. All of their houses were attacked.
Freedom fighter Anil Chandra Das said, "I told them I'm a freedom fighter, but they didn't listen and they were furious."
Freedom fighter Jagat Chandra Das said, "They've humiliated us, I wish I were dead."
His son Liton Das, said, "I heard them say 'it's a freedom fighter's house', and then they attacked our house."
Jhumon's wife Sweetie Chandra Das was beaten up by the mob.
"I, my six-month-old child, and sister-in-law went under the bed when they attacked. They found me… they tried to hit my head, but missed and cracked my arm. Then they held a knife to my throat and took away my jewelleries and savings," she said.
Seven temples along with the idols at people's homes were destroyed.
Ashim Chakraborty, the village priest, said they stole a stone idol of Bishnu believed to be aged almost 1,000 years.
PREEXISTING ENMITY
Main accused Shahidul Islam Swadhin had been draining water out of Kucakhai Beel, a fresh water source near Naogaon.
After Haripada Das lodged a complaint, officers fined him on January 8 and seized the engine he was using to drain the water for fish.
"I don't think the waterbody was an issue. After I filed the complaint, he came to me and the matter was settled.
"Swadhin did not attack my house, he attacked other houses. It was definitely a communal attack," Haripada said.
Source : Fear, despair grip them by Dwoha Chowdhury