Cumilla incident: 41 arrested in 4 cases, including DSA
Imams urged to speak on religious harmony during Jumma sermon tomorrow
At least 41 persons have been arrested in four cases filed over "demeaning the Holy Quran" in Cumilla, said Superintendent of Police Faruk Ahmed today.
"Among the four, one is a Digital Security Act (DSA) case, another filed under Section 295 of the Penal Code, and two cases filed over vandalism with the Kotwali Model Police Station," said the SP, reports our Cumilla correspondent.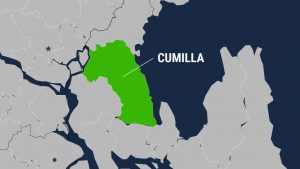 "An accused, Faiz Ahmed of Raghurampur area in Cumilla city, was arrested in connection with a video that went viral on social media, following which angry mobs vandalised several mandaps and temples," added the SP.
"The city is under surveillance with strict security and the added measures will be in place until the situation becomes normal," SP Faruk also said.
A three-member probe committee headed by Saidul Arifin, Cumilla additional district magistrate, along with an additional superintendent of police and Cumilla Sadar UNO, has been asked to submit a report within three days, confirmed Cumilla Deputy Commissioner Kamrul Hasan at a press briefing at the DC office at 5:00 pm today.
"Four magistrates have also been deployed with four Border Guard Bangladesh (BGB) platoons to ensure security," said the DC.
"A meeting was conducted with 100 imams where they were urged to speak on religious harmony during the Jummah sermon tomorrow, which is also the 10th day of Durga Puja," the Cumilla DC added.
Source: https://www.thedailystar.net/news/bangladesh/crime-justice/news/cumilla-incident-41-arrested-4-cases-including-dsa-2198376