Fresh attack in Rangpur
FB post incited arson; home boss pledges fair probe into violence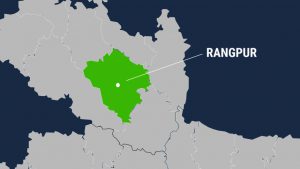 When Hindus across the country were still reeling from the shock of communal attacks during the Durga Puja, miscreants reportedly set fire to some houses of the community in at least three villages of Rangpur last night.
Local sources said the arson took place in Majhipara, Bottola and Hatibandha villages of Ramnathpur union of the district's Pirganj upazila centring on a Facebook post.
However, Md Mahbub, officer-in-charge (investigation) of Pirganj Police Station, could only confirm the attacks in Hatibandha village while talking to The Daily Star around midnight.
Contacted, Asif Ahasan, deputy commissioner of Rangpur, said they rushed to Karimganj village along with law enforcers and public representatives after learning about tensions over a Facebook post and calmed the situation.
"But by this time, miscreants set fire to some Hindu houses in other villages in Pirganj," he said over phone from Karimganj.
He added that they were taking preparations to visit the affected villages.
During the Durga Puja, zealots ran amok, vandalising Hindu idols, temples and shops in several district after word spread that "the Holy Quran was demeaned" in Cumilla.
Idols were vandalised in Munshiganj and Kishoreganj even on Friday and Saturday.
Yesterday, while taking to journalists about these incidents, Home Minister Asaduzzaman Khan Kamal said through a fair probe, the law enforcement agencies will identify the culprits.
"We're seeing and assuming many things. We're waiting for evidence. Once we get the evidence, we'll present it before you," he said.
"We've taken the Cumilla incident very seriously. We'll let you know after a proper investigation. We hope to let you know very soon," he said.
Pointing out the incidents of Ramu of Cox's Bazar and Nasirnagar in Brahmanbaria, he said the main purposes of these incidents were to create anarchy in the country.
"We're confirmed that it was a purposeful incident carried out to create anarchy and damage [communal] harmony in the country. Upon someone's instigation, it was carried out," Asaduzzaman told journalists at his office in the Secretariat.
He added that exemplary punishment would be ensured following probe so that no one attempts to damage communal harmony in the country.
In reply to a query, he said, "In the investigation, it will be found whether anyone from abroad had any role in it.
"There is no shortage of instigators inside the country.
"We've arrested two-three suspects in the Cumilla incident. Those involved will be identified soon."
He said the intelligence agencies are handling the issues very professionally. "With utmost patience, security forces are handling the situation."
After the incident, the BNP blamed the government for it.
Asked, the home minister said, "Many people have said many things, but these have no basis."