http://www.thedailystar.net/country/jhenidah-hindu-priest-killed-militant-style-1235716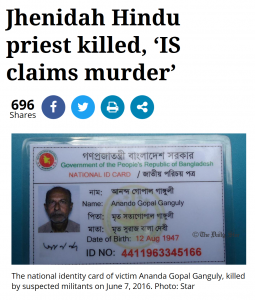 A veteran Hindu priest was hacked to death in Jhenidah Sadar this morning in a manner similar to previous suspected militant killings. Islamic State reportedly claimed responsibility of the murder.

The victim has been identified as Anando Gopal Ganguly, 70, our local correspondent reports quoting Jhenidah Sadar Officer-in-Charge Hasan Hafizur Rahman.

He was riding a bicycle to Naldanga Bazar to perform puja when he was attacked around 9:30am, Gopinath Kanti Lal, assistant superintendent of Jhenidah police (Sadar circle), told The Daily Star.
"First shot, the victim was hacked on the neck to confirm death. The wounds are deep," he said adding that the style of the killing "looks similar to previous militant killings".
Locals said three assailants, riding a motorbike, intervened the veteran priest near Sonakhali canal.
Hours after the murder, US-based SITE Intelligence Group quoted Amaq to report that Islamic State claimed responsibility of the murder of the Hindu priest.
This would be the third such killing committed this month after the murder of a Christian grocer in Natore and the killing of a police official's wife in Chittagong.
So far, police have record of at least 37 cases that relate to militancy. Most of these cases have been in the northern region of Bangladesh. But, at least four more suspected militant killings have taken place since then.