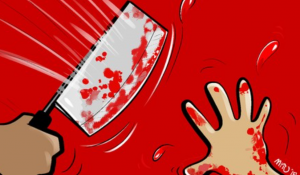 A Hindu priest has been killed in Jhenaidah, the murder resembling a similar assassination of another Hindu priest in the same district last month.
Shyamananda Das, 50, was serving the Radha Madan Gopal Temple in Uttar Kastasagara village at Sadar Upazila for the last three years.
Three motorcycle-borne killers hacked him down early on Friday, exactly like the murder of priest Ananda Gopal Ganguly last month in the same Upazila.
Jhenaidah SP Sheikh Altaf Hossain said this murder resembles similar killings elsewhere in the country, where motorcycle-borne militants shot and hacked down secular bloggers, publishers, writers, Hindu priests, Buddhist monks, Christian pastors and even foreigners.
Quoting an eyewitness, a woman, Hossain said the murder occurred around 5:20am Friday.
"Shyamananda was picking flowers for puja just outside the temple when three assailants approached him on a motorcycle and hacked him down," Hossain said.
"To make sure he died, they rained multiple blows to his head with sharp weapons."
The temple's treasurer Prabhash Kumar said Das hailed from Musuridanga village in Narhail Sadar Upazila.
"He came to serve this temple three years ago. He had no enmity with anyone."
On Jun 7, Hindu priest Ananda Gopal Ganguly, 69, had been murdered in identical fashion in Jhenaidah Sadar's Mahishdanga village.
US monitoring group SITE said the Islamic State had owned up the murder of Ganguly.
But local police says his killers are linked to Islami Chhatra Shibir, the student affiliate of the Jamaat-e-Islami.
Analysts say the killing of Hindu religious leaders in Bangladesh is a focussed attempt to trigger a Hindu exodus to India and create misunderstanding between the two governments at a time when bilateral relations between Delhi and Dhaka is at its peak.
"These killings are political more than they are religious," said Bangladesh watcher Sukharanjan Dasgupta.
http://m.bdnews24.com/en/detail/bangladesh/1176807