Machetes strike again: This time, a tailor killed in Bangladesh district of Tangail
Cops hint at his anti-religious remark; 
SITE Intelligence quickly puts IS tag on it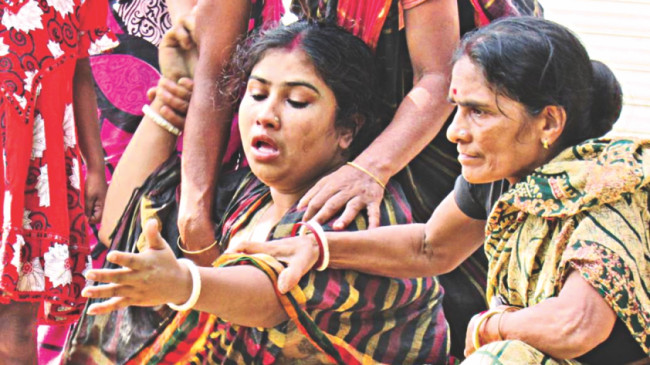 Bonya Rani, centre, the eldest daughter of slain tailor Nikhil Joardar, in tears after hearing about the murder of her father in Gopalpur upazila of Tangail yesterday. Photo: Star
Another day, another brutal murder.

In the latest incident, unidentified assailants hacked a Hindu man to death at his tailoring shop in Tangail in broad daylight yesterday.

The motive is not yet clear, but the machete attack resembles the recent spate of targeted attacks that saw secular bloggers, writers and people of different faiths and ideologies killed over the last few years.

Yesterday's victim is Nikhil Joardar, 50, of Dubail area under Gopalpur upazila. His shop is close to his house.

Two to three assailants, who came on a bike, took part in the killing around 12:30pm, said police and locals.

They swooped on Nikhil, father of two daughters, and hacked him indiscriminately, leaving him dead on the spot, said Aslam Khan, additional superintendent of police (Gopalpur circle) in Tangail.

Police detained a madrasa teacher "just for quizzing," reports UNB.
In 2012, Nikhil was in jail for several weeks on charges of making derogatory comments about Prophet Muhammad (PBUH), said Abdul Jalil, officer-in-charge of Gopalpur Police Station.
This could be a possible motive behind his murder, police sources said.
However, the victim's wife Arati Rani said the 2012 dispute was resolved with the help of locals. She said her husband had no known enemy in the area.
The man detained over the killing is Maulana Amirul Islam, who had filed the case against Nikhil for "his derogatory remarks" about Prophet Muhammad, UNB added.
Hours after the incident, global terror outfit Islamic State (IS) claimed responsibility for the killing, US-based SITE Intelligence Group, which monitors terrorist activities globally, said in a post.
"By way of its 'Amaq News Agency, the Islamic State (IS) claimed credit for the hacking death of a Hindu trailer [sic] in Tangail district in Bangladesh," reads the post.
The authenticity of the claim could not be independently verified.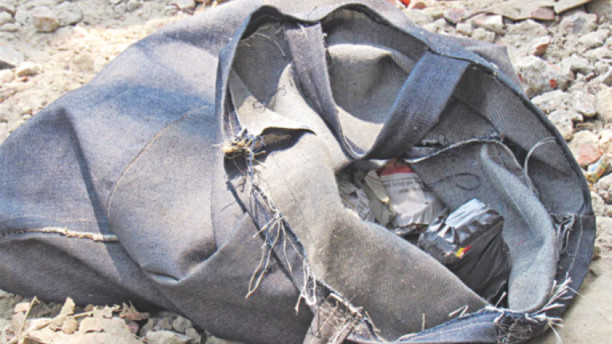 The criminals left 3 to 4 bomb like objects in a bag at the scene. Photo: Star
Nikhil is the fifth victim of suspected militants in April alone. The four other victims are Nazim Uddin Samad, a law student of Jagannath University, Professor Rezaul Karim of Rajshahi University, Xulhaz Mannan, an USAID staff member and editor of LGBT (lesbian, gay, bisexual and transgender) magazine Roopbaan, and his friend Mahbub Rabbi Tonoy. They all were hacked to death in a similar fashion.
The so-called IS claimed responsibility for the killing of Prof Rezaul while militant outfit Ansar-al Islam claimed credit for the killings of Xulhaz, Tonoy and Nazim Uddin, according to SITE.
Contacted last night, Home Minister Asaduzzaman Khan Kamal stoutly denied, like in the past, presence of IS in Bangladesh.
"There is no presence of IS in this country. The claim has no basis. A vested quarter in the name of IS has been trying to destabilise the country," he told The Daily Star by phone.
The Home boss said the claim was part of a local and international conspiracy.
"Only the foreigners are talking about IS because they want to infiltrate the terror group into Bangladesh," he said. "Such killings are committed by home-grown militant outfits".
Saleh Mohammed Tanvir, superintendent of police in Tangail, said they suspected militants were behind the killing but investigation was on to identify the perpetrators and determine their motive.
The assailants left a bag containing three to four objects that look like crude bombs, two machetes, a lungi, and a towel. A bomb disposal team was examining the objects, Additional SP Aslam told this newspaper.
Dubail area where the killing took place is several kilometres from the Gopalpur municipality and is relatively quiet. Nikhil was alone at the shop when he was killed, reports our correspondent in Tangail.
Harunur Rashid, a local, said he saw three youths, aged between 20 and 25, leaving the area on a motorbike around the time the killing took place.
Nikhil had been living in the area with his family for several years.
Following the murder, police set up checkpoints in different areas.