Four-year-old Aditya Saha still waits to have lunch with his father – a tradition they have maintained since the child learned to eat on his own.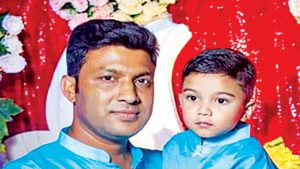 "I will not eat until my father comes home. When will he return?" he keeps asking his mother all day. She, however, does not have the heart to tell him that his father, Jatan Saha, will never return.
On the afternoon of October 15, Jatan was killed when Hindu temples in Noakhali's Begumganj upazila were attacked. He was beaten to death.
Son of late Manaranjan Saha, Jatan, of Gobindpur village in Cumilla's Titas upazila, was working on a JICA project in Chattogram.
"How do I tell Aditya that his father will never come home, have lunch with him, play with him or cuddle with him again?" a tearful Laki Rana Saha, Jatan's wife, and resident of Cumilla's Titas upazila, said.
"On one hand, I am still reeling from the shock of my husband's death, and on the other, I am worried about my child as he is falling sick due to his father's absence."
Every Durga Puja, Jatan used to visit his sister in Narottampur of Begumganj upazila's Chaumuhoni municipality area.
Jatan's sister Muktarani Saha said, "Jatan was a very simple and happy person. He used to come to my house every year for Durga Puja and this was the first time he brought his wife and only son along. However, the joy of worship died along with my brother. I could never imagine something like this would happen. I cannot believe I won't see my brother's face again."
Utpal Saha, Jatan's brother-in-law, said, "Around 3:00pm on Friday, almost 2,000 people attacked Ganipur Girls' School. A few moments later, they attacked ISKCON and Bijoya Sarbojonin Durga temples."
At that time, Jatan was at the ISKCON temple gate and came under attack.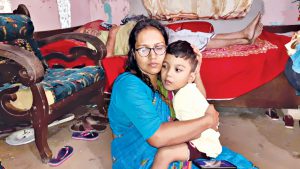 "The attackers broke his leg," Utpal said.
Jatan then went home and iced his broken leg to reduce pain but he went out again to observe the situation. The attackers spotted him and began beating him severely.
"We called for an ambulance but did not get any. So, we took him to a local private hospital. He was then shifted to Begumganj upazila health complex. But as his condition kept deteriorating, doctors referred him to Noakhali General Hospital. There, on-duty doctors declared him dead."
Utpal was shocked and disappointed over the law enforcers' laxity in response to the unfolding mayhem.
"The attacks lasted for over three hours and yet, no law enforcement agency rushed to the spot… We dialled 999, called the officer-in-charge, upazila nirbahi officer, superintendent of police and the district commissioner over phone. But we did not get any response.
"We are still panicking. How long will the police be deployed for our protection? Can anyone ensure that no such incident will occur again?"
Speaking to The Daily Star on Monday, Jatan's wife Laki said, "My husband was the lone breadwinner of our family. The attackers heartlessly beat him to death and now my child and I are heading towards a dark future. I don't know how I will raise my child alone. I demand the highest punishment to my husband's killers."