HRCB is raising funds for the victims of Noagaon village in Shalla Upazila of Sunamganj District in Bangladesh
Why are we raising funds?
On 17 March 2021, thousands of religious bigots attacked, looted and vandalized 70-80 homes and idols of poor Hindu families in Noagaon village in Sunamganj's Shalla upazila, according to the police. This hate crime has left these families with psychological trauma, financial difficulties and shortages of other basic needs. While we cannot fulfill all the necessary needs or make commitments for all the affected families, our goal is to assist those families who are affected the most. For that we need your help, your kind donation. We hope our combined effort will help these distressed people. Please send your donation online at – https://www.paypal.com/donate?hosted_button_id=Y7H6DQRP68HTJ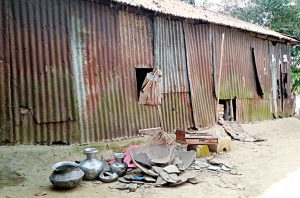 There are numerous reports of attack on Hindu Minorities and some of them are listed here for your reference-
https://www.thedailystar.net/backpage/news/fear-despair-grip-shalla-hindus-2065129
https://www.thedailystar.net/crime/news/hefajat-followers-attack-vandalise-hindu-houses-sunamganj-police-2062177
https://www.thedailystar.net/country/news/what-happened-shalla-first-hand-account-2065625
Thank you for extending the helping hands.
Sincerely,
HRCB Executive Committee